Minster of Environment of Iraq meets with the ISU Director
On 23 June 2022, H.E Jassim Abdul Aziz al-Falahi, Minister of Environment of the Republic of Iraq met with Ms. Sheila Mweemba, the Director of the Implementation Support Unit of the Convention on Cluster Munitions (CCM ISU) in the sidelines of the 25th Meeting of Mine Action Directors and United Nations Advisers (NDM-UN25) held from 23 to 24 June 2022 in Geneva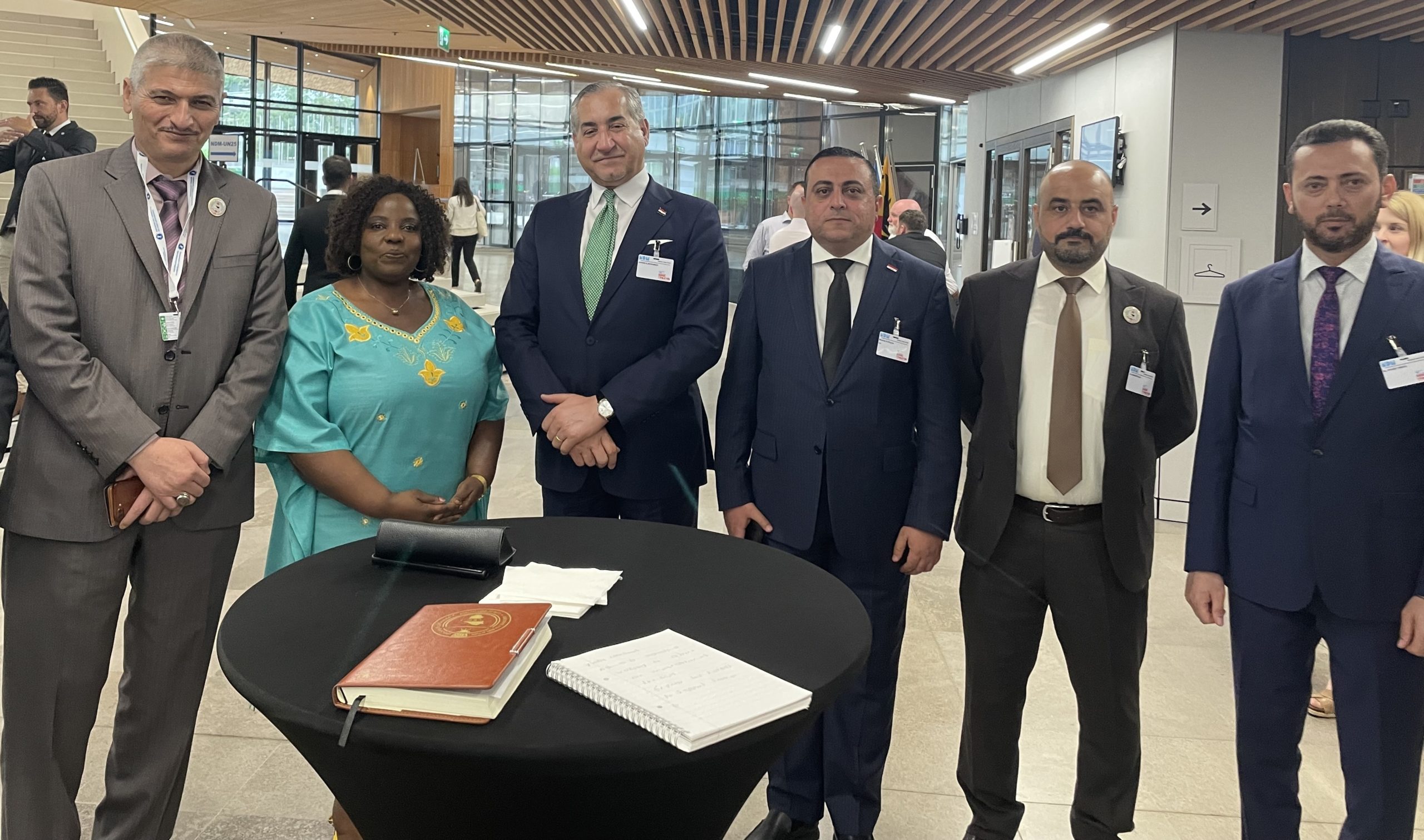 H.E Mr. Al-Falahi highlighted the efforts of the Republic of Iraq in implementing the Convention as well as the hazards of cluster munitions and other explosive devices that face the Iraqi people. He pointed out that Iraq has more than 100,000 victims, who need ongoing support and rehabilitation.
The ISU Director expressed her thanks to Iraq for inviting the ISU team to visit the Mine Action Centre in South- Basra in support of Iraq's preparation of its Article 4 extension request. She outlined that the field visit to two cluster munitions sites in Basra provided a good opportunity for the ISU to see closely the reality of the challenges posed by cluster munition contamination. It also provided more clarity on the amount of work still to do in order for Republic of Iraq to comply with its CCM obligations. She further pointed out that the constant expansion of the area contaminated by needed to be highlighted by Iraq to the international community. The Director encouraged Iraq to organize a side event or workshop in the margin of the 10MSP to showcase the achievements that have been made to date as well as to appeal for donor assistance.
Minister Al-Falahi expressed his gratitude to the ISU team support and confirmed Iraq's firm will to implement all its obligations under the CCM convention.
The Minister was accompanied by Mr. Dhafer Mahmoud Khlaf, Director-General of the Directorate of Mine Action of Iraq (DMA), Mr. Nibras Fakhir Matrood, Director of the Iraq Regional Mine Action Centre – South (RMAC- South), Mr. Moamar Al-Shayea, Director of the Iraq Regional Mine Action Centre – North (RMAC- North), Mr. Ali Shaker Naji, Director of the Iraq Regional Mine Action Centre – Middle Euphrates (RMAC- Middle Euphrates), and Mr. Mr. Sabah Al-Janaby, Counselor at the Iraqi Mission in Geneva.