Francophone Africa states meet in Yaoundé for CCM universalization workshop
The Convention on Cluster Munitions (CCM) Francophone Africa Universalization Workshop was held in Yaoundé, Cameroon, on 15-16 February 2023. The workshop was opened by H.E. Mr. Chinmoun Oumarou, Secretary General of the Ministry of External Relations of Cameroon, who encouraged the States not yet party to the Convention to join the CCM community in preventing the proliferation of these harmful weapons. Introductory remarks were also given by Ms. Rita Duca of the Swiss Embassy in Yaoundé, and Mr. Nigel Holmes, Acting British High Commissioner to Cameroon. The President of the 11th Meeting of States Parties (11MSP), H.E. Mr. Abdul-Karim Hashim Mostafa, delivered his opening statement via video.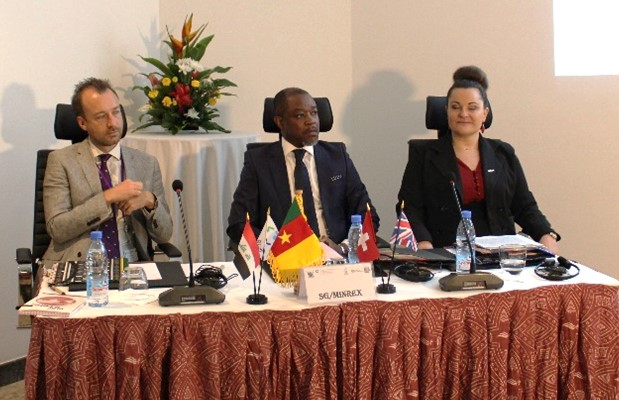 During the workshop, states yet to join the CCM learned about the key provisions of the Convention and of the assistance provided by various stakeholders that support the implementation of the Convention. They were given the opportunity to discuss the status of their national ratification or accession and explore possible solutions to overcome hurdles faced in the process. A closed-door military-to-military dialogue was also held for military representatives to deliberate on national defence considerations related to joining and implementing the CCM.

The event brought together 1 State Party (Cameroon), 2 Signatories (Democratic Republic of Congo and Djibouti) and 1 State not Party (Equatorial Guinea) from the Francophone Africa region. Participating as resource persons were representatives of Cameroon, France, Iraq, Switzerland, the Geneva International Centre for Humanitarian Demining (GICHD), the International Committee of the Red Cross (ICRC), Norwegian People's Aid (NPA), and the Implementation Support Unit (ISU).
In Francophone Africa, 16 countries are States Parties, 3 are Signatories and 2 States not Party to the CCM. Organized by the ISU, the workshop was co-hosted by the governments of Cameroon, Iraq, Switzerland and the United Kingdom, with the financial support of Switzerland and the UK.